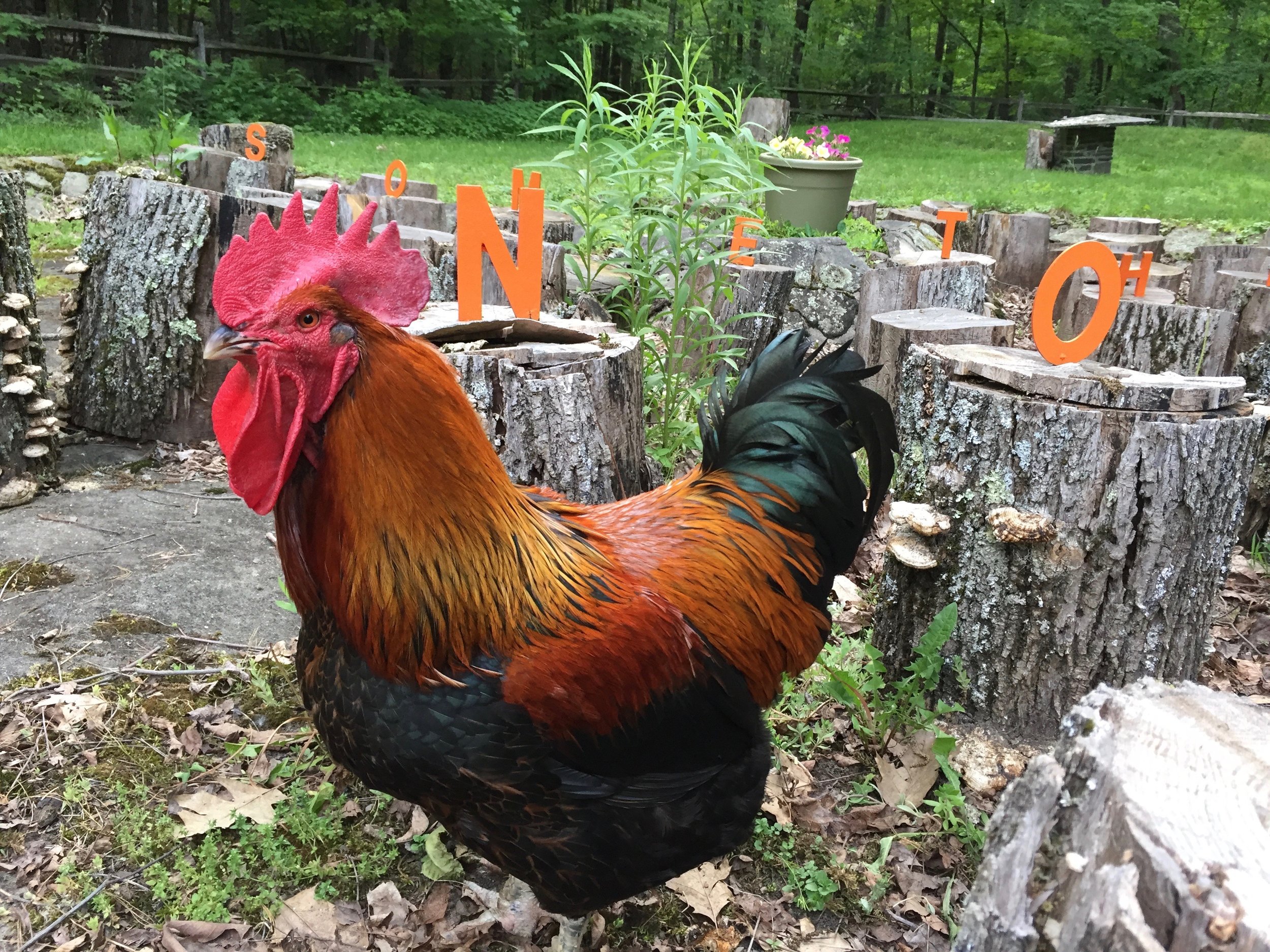 WELCOME TO THE
INSTITUTE
FOR ANIMAL
HAPPINESS!
At a cellular level, all animals (human and non-human) crave happiness in their own way. Whether as dance-floor ecstasy or meditative contentment, scratches under the neck or fresh grass, a piece of music or a soft bed, happiness is a quality beyond being simply "maintained" - a quality which elevates all life to a magical and transcendent state.
The Institute for Animal Happiness (IFAH) is a vegan microsanctuary and growing advocacy organization. The Institute seeks to foster more happiness and kindness through direct action, education and creativity - in order to alleviate the suffering of all beings, human and non-human. We focus on the rescue, care and sanctuary needs of the most abused beings on earth: chickens. In focusing on these small, completely discounted victims who are deemed worthless and expendable by society at large, we wish to make our mission very clear: all beings have rights, and all beings deserve to live free from cruelty and suffering. We strive to continually maintain a high level of individualized care for our residents, as well as to foster art and opportunities that encourage joy, creative learning, new dialogues and positive action for animals that is linked clearly to the rainbow of social justice movements. Our anti-speciesism is firmly rooted in a vegan, animal rights = human rights (Intersectional) philosophy. Equality and justice must be for all.
"…I have come to you, for you, to be a witness to your life and to extend whatever understanding and happiness I can."
How did we get here?
Everyone here has a story. Everyone here came from difficult circumstances, and deserved better than how they were treated. Learn their names, learn where they each came from, and what you both might have in common. Click HERE.
KONMARI FOR THE CLUCKS
All around the world people are learning to clear out the clutter via Marie Kondo and her KonMari Method of Sparking Joy through Tidying Up! KonMari for the Clucks is a way for your unneeded possessions to help animal rescue (and keep stuff out of landfills!)
It's easy:
After you have KonMari'd items and said your good-byes (just like Marie teaches!) designate one or more items to benefit the birds! The price can be ANYTHING - even $1! Every bit helps.

Do a yard sale, garage sale, eBay the item(s), sell on Craigstlist - whatever floats your boat. If you'd like a printable graphic like the one on the left, or something to share on social media announcing your participation, there are download links to the left under the image!

After your successful sale, donate the proceeds here by clicking this button:
That's it - you will have KonMari'd for the Clucks successfully.
THANK YOU FOR YOUR GENEROSITY.
LOVE FESTS
Things change when we all come together to share!
Your support is appreciated. every bit helps!
Life at the Institute, via our Instagram Page: